If you enjoy this blog,
you will SURELY love...




Http://fiqo.blogspot.com

Note/s:

- More archives can be viewed at the left column of Http://Normanau1.blogspot.com.

- More information is available at Http://Normanau3.blogspot.com, located just below 'links'.


You are at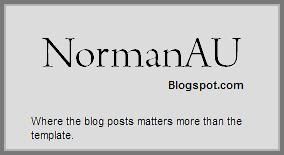 Classics

The New Language(TNL)
The New Language(TNL) II
The New Language(TNL) III

Sesame Street
People
Formal Letter

How to be an ass in a hospital
Stop eating, be happy
Opera



Tagboard
My Profile


- Norman
- Email address: Ahs.namron@gmail.com



Misc
Started on 1st January2007.

This work is licensed under a Creative Commons Attribution-No Derivative Works 3.0 Unported License
Exit
Links
Blog
Information